---
200 english sentences used in daily life with urdu | English sentences pdf
---
Here in this blog we have tremendous latest 200 English sentences used in daily life with Urdu of 2021. Learn these special new everyday use English sentences with the help of English sentences flashcards as well as you may also get pdf booklet for this lesson at the bottom of this page.
---
200 english sentences used in daily life with urdu script
---
The book is on the table.
کتاب صندوق کے اوپر ہے ۔
Kitab sanduq ky upper ha
The computer is on the table.
کمپیوٹر میز پر ہے۔
Computer maiz pr ha
The clerk is at the seat.
کلرک سیٹ پر بیٹھا ہے۔
Clerk seat pr betha ha
There is green paint on the door.
دروازے پر سبز رنگ ہے۔
Drvazay pr sbz rang ha
Father is standing at the door.
والد صاحب دروازے پر کھڑے ہیں۔
Valis sahib drvazay pr khry hein
I'll see you at home.
میں آپ کو گھر پر ملوں گا۔
Mein apko ghr pr milun ga
Neha is coming into the room.
نیہا کمرے میں آ رہی ہے۔
Neha kmry mein a rhi hein
Shama and kamal both are in the room.
شمع اور کمال دونوں کمرے میں ہیں۔
Shama aur kamal dono kmry mein ha
I'll pour some more water into the glass.
گلاس میں تھوڑا سا اور پانی ڈالوں گا۔
Glass mein thora sa aur pani dalun ga
People bathe in the river.
لوگ ندی میں نہاتے ہیں۔
Log ndi mein nahaty hein
We sit on the bench but father sits in the arm-chair
ہم بنچ پر بیٹھتے ہیں لیکن والد صاحب آرام کرسی پر بیٹھتے ہیں۔
Hum bench pr bethty hein lekin valid sahib aram kursi pr bethty hein
Why don't you sit at the table ?
آپ میز پر کیوں نہیں بیٹھتے؟
Ap maiz pr kyun nhi bethty ?
Feed the floppy into the computer
فلوپی کو کمپیوٹر میں ڈال دو۔
Floppy ko computer mein dal do
He went into his house
وہ اپنے مکان کے اندر گیا۔
Vo apny makaan ky andr gea
The letter was sent by courier
خط کورئر کے ذریعہ بھیجا گیا۔
Khat courier ky zariya bheja gea
Please translate this from Urdu into English
اسے اردو سے انگریزی میں ترجمہ کیجئے۔
Isey urdu se angrezi mein trjma kijiye
Himachal Pardesh is in northern India
ہماچل پردیش شمالی ہندوستان میں ہے۔
Nepal is to the north of India
نیپال ہندوستان کی شمال سمت ہے۔
Nepal Hindustan ki shumal smt ha
Don't judge a person by his clothes
کسی آدمی کو اسکی پوشاک سے مت پہچانو۔
Kisi admi ko iski poshak se mat pehchano
I filled the bottle with milk
میں نے دودھ سے بوتل بھری۔
Mein ny doodh se bottle bhri
The tiger was killed by the hunter
شیر شکاری کے ذریعہ مارا گیا۔
Shair shikari ky zariya mara gea
He stood beside his brother
وہ اپنے بھائی کے پاس کھڑا ہوا۔
Vo apny bhai k pas khra hva
I kept football beside hockey stick
میں ہاکی اسٹک سے فٹ بال کھیل سکتا ہوں ۔
Mein hockey stick se football khel skta hun
Divide the sweets between Sharif and Mehmood
مٹھائی شریف اور محمود کے درمیان تقسیم کر دو۔
Mithai shareef aur mehmosssod k drmiyan taqseem kr do
Shimla is situated amongst the mountains
شملہ پہاڑوں کے بیچ میں واقع ہے۔
Shimla paharon ky beech mein waqiya ha
He is a man of principles
وہ اصول پسند آدمی ہے۔
Vo asul pasand admi ha
There is bridge over the Yamuna river
جمنا ندی پر پل ہے۔
Jmna ndi pr pull ha
Throw the ball over the wall
گیند کو دیوار سے اوپر پھینکو۔
Gaind ko deewar se upper phenko
Birds are flying over the bridge
چڑیاں پل کے اوپر اڑ رہی ہیں۔
Chirian pull ky upper ur rhi hein
Boats are under the bridge
کشتیاں پل کے نیچے ہیں۔
Kashtian pull ky neechy hein
Anis is standing between Raja and Danish
انیس ، راجا اور دانش کے بیچ میں کھڑا ہے۔
Anees ,Raja aur Danish ky beech my khra ha
Raquib is in front of Rafique
Rafiqua is standing behind him
رقیب ،رفیق سے آگے ہیں
۔رفیقہ ان کے پیچھے کھڑی ہیں۔
Raqeeb ,Rafeeq se agy hein
Rafeeqa in ky peachy khri ha
We are in confusion.the money is in my pocket .fishes are in the sea
ہم تذبذب میں ہیں۔ پیسہ میری جیب میں ہے۔ مچھلیاں سمندر میں ہیں۔
Hum tzbzb mein hein .Paisa meri jaib mein ha .mchlian sumundr mein hein
Who is inside?
اندر کون ہے؟
Andr kon ha?
---
200 english sentences used in daily life with urdu Flashcards
---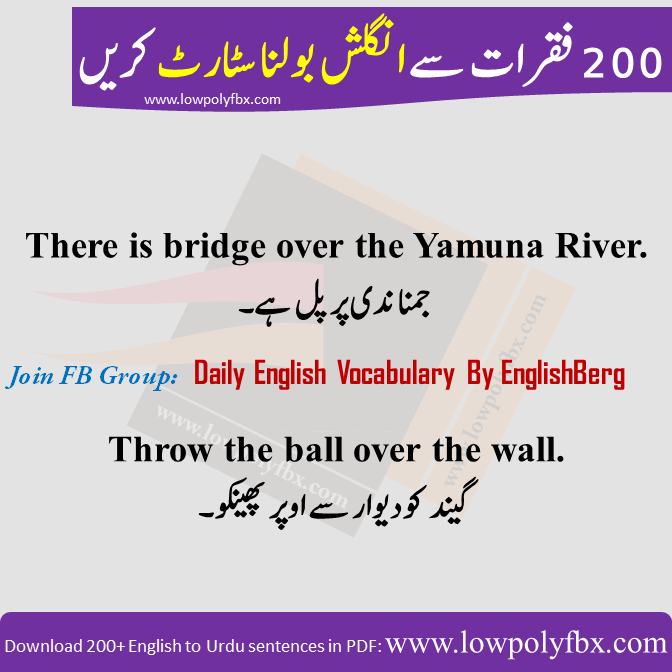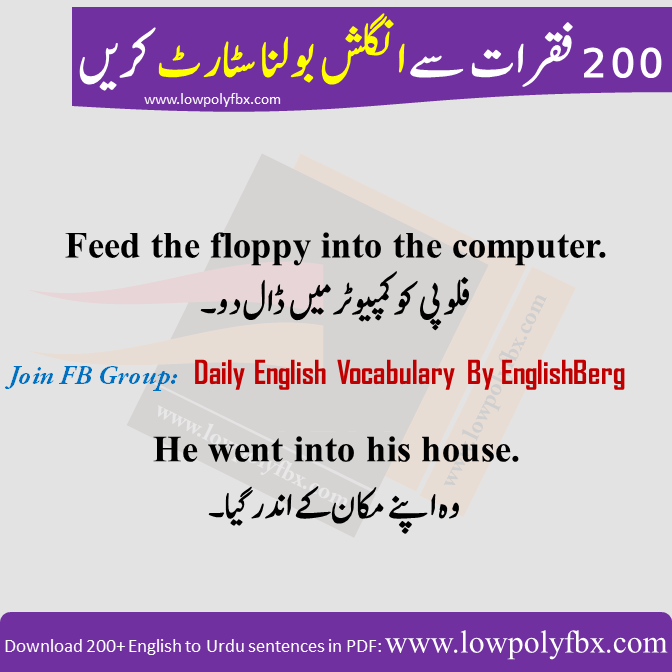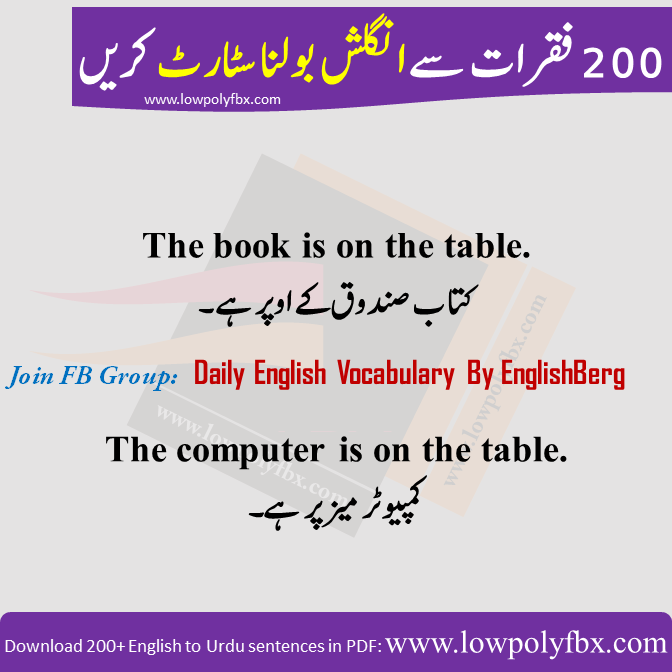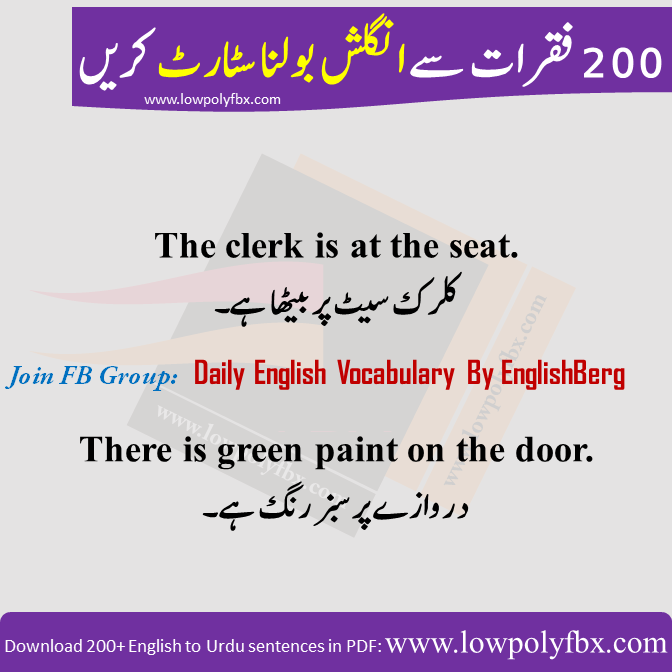 Frequently Used English Sentences in Daily Life | Flashcards and pdf